BLACK
FRIDAY
SALE
UP TO
50% OFF
BLACK FRIDAY SALE UP TO 50% OFF
0% Finance Available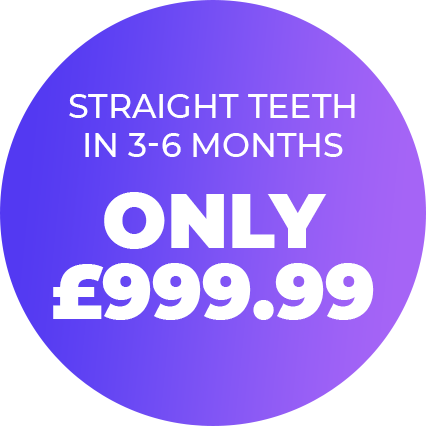 Start your plan for just
£49.99
Get started with our Home Impression Kit,
then £1,300 once you're happy with your 3D visuals.

Want to spread the costs?
Finance available from only £20.82 a month with Tabeo.
So, what's included?
Home impressions kit
2 x Upper & Lower teeth moulds delivered straight to your door.
Before & after 3D visuals
We turn your impressions into 3D visuals so you can see your end results.
Free Diamond Whites Whitening Kit
We include our premium whitening kit with every plan.
Once you're approved & happy
£999.99
Full set of aligners delivered
If you're happy with the 3D visuals, we'll send your aligners straight away.
Remote Scan Box
Linked to a mobile app that allows us to track your plan and movements from anywhere.
Financing doesn't change a thing
You'll receive your full set of regardless of finance, or upfront payment.
Diamond Retainer
We recommend using our premium retainer post treatment to avoid relapse of any movements.
The remaining
£1,300

is to be paid, only once you are happy with your plan.

We recommend using our premium retainer post treatment to avoid relapse of any movements.
First, impression
Send us across your photos and teeth impressions so our doctors can get started on your plan.
Let our team do the work
Our doctors will then design your unique treatment plan. Once ready we will send your 3D renders across for approval.
Delivered to your door
Once you have approved your plan, you will receive a full set of aligners and your ScanBox for ongoing monitoring.
Let the app do the work
Download our app on your smartphone, available on both iOS and Android.
Connect with a dentist
Our ScanBox and app let's you connect directly with a dentist, to help you with your perfect smile. Watch how it works
Up to 70% cheaper than traditional braces,
and 6 more reasons why customers choose us.
Book a visit to one of our clinics. (If preferred)
Full support from qualified dental staff throughout.
We monitor your movements weekly to ensure you are on track.
Free Diamond Whites Whitening Kit with every Home Impression Kit.
We offer a range of Finance terms to suit you.
Fast results, on average our plans take 6 months.
Free Diamond Whites whitening kit
with every Home Impression Kit purchased
Your DiamondWhites whitening kit
included with every Home Impression Kit
Our Teeth Whitening Kit is loved by thousands of customers worldwide and is our best selling product. Designed to make your teeth whiter in as little as 10 minutes. Our non peroxide formula is the safest, quickest and most trusted Teeth Whitening Kit you can buy.
All this can be done in the comfort of your own home or on the go